Categorias
Notícias - Oficinas - Pesquisas
SITUACCIONES
TEATRO DE SITUACIONES: ESTRATEGIAS PARA LA PREPARACIÓN Y REALIZACIÓN DE ACCIONES CALLEJERAS. Taller de investigación y acción en las calles de Barcelona. (ENGLISH BELOW)
(ENGLISH BELOW)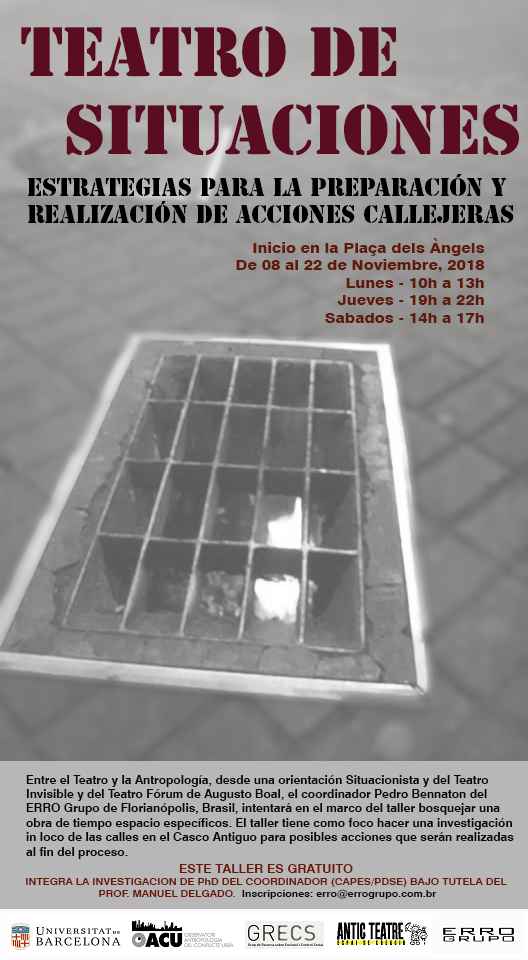 TEATRO DE SITUACIONES: ESTRATEGIAS PARA LA PREPARACIÓN Y REALIZACIÓN DE ACCIONES CALLEJERAS
Taller de investigación y acción en espacio urbano en la ciudad de Barcelona
Coordinador: Pedro Bennaton (ERRO Grupo, Brasil)
De 8 a 22 de Noviembre, 2018.
Horarios (puedes realizar el taller en cualquier uno, o más, de los días):
Lunes – 10h a 13h, jueves – 19h a 22h y sábados- 14h a 17h
Inicio en la Plaça dels Àngels
Este taller es gratuito e integra la investigación de PhD. del coordinador como becario de CAPES – PDSE – Brasil (PPGT-UDESC) bajo tutela del Profesor Manuel Delgado (UB, GRECS – OACU) y es dirigido a toda persona que desee desarrollar acciones callejeras, personas del arte, antropología, sociología, filosofía, psicología, arquitectura, urbanistas, ninguna de esas áreas o de ninguna.
El taller tiene como foco hacer una investigación in loco de las calles en el Casco Antiguo de Barcelona para posibles acciones que serán realizadas en estas mismas calles. Entre el Teatro y la Antropología, desde una orientación Situacionista y del Teatro Invisible y Fórum de Augusto Boal, el coordinador Pedro Bennaton del ERRO Grupo de Florianópolis, Brasil, intentará en el marco del taller bosquejar una obra de tiempo y espacio específicos.
Con estos encuentros se pretende bosquejar una acción callejera, no solamente por medio de las investigaciones durante el taller, pero por una junción de las propuestas descubiertas por los participantes, entre situaciones cotidianas, ataques a los poderes, y rituales, mientras cumplen su propia participación en las propuestas del coordinador del taller.
Este taller práctico-investigativo intenta emerger la imaginación y experiencia de una posible o no conquista de espacios de poder, o de tensionarlos. A partir de la investigación teórico práctica del coordinador Pedro Bennaton a partir de su tesis de doctorado Modus Operrantes: estrategias de actuación urbana: juego y preparación de un teatro de situaciones (Universidad del Estado de Santa Catarina, bolsista CAPES – Brasil), que ahora desarrolla una investigación bajo la tutela del Prof. Manuel Delgado, Universitat de Barcelona, Departamento de Antropología Social, Programa de Doctorado en Sociedad e Cultura, en los grupos de investigación GRECS y OACU, este taller tiene como objetivo la descubierta de modos colectivos de toma de decisiones y posicionamiento en las calles, a través de anhelos poéticos, políticos y estéticos que mueven tales experiencias relacionales y que Bennaton propone por medio de su experiencia como investigador y director de teatro callejero e intervenciones urbanas desde 2001, en cinco campos de experiencia: teatro, ciudad, interactividad , juego e imagen.
Encuentros y sesiones del taller:
Sesión 1 (2 encuentros): Observaciones específicas en las calles.
Sesión 2 (3 encuentros): Investigación de rituales de raíces y cotidianos, visibles e invisibles.
Sesión 3 (2 encuentros): Organización y realización de experiencia colectiva práctica.
Inscripción: erro@errogrupo.com.br
Más informaciones sobre ERRO Grupo:
https://elpais.com/elpais/2018/03/02/seres_urbanos/1519981122_623530.html
https://www.facebook.com/pg/ErroGrupo
Portfolio: https://www.dropbox.com/s/d2pkxw4k7dlz7c3/Portfolio%202018%20ERRO%20Grupo.pdf?dl=0
Vídeo Jogo da Guerra (2018): https://www.youtube.com/watch?v=KMge7xx5m5Q
Vídeo IRRUPÇÃO (2015): https://www.youtube.com/watch?v=2oJXcFvDBUU
Vídeo HASARD (2012): https://www.youtube.com/watch?v=vw9jSUo8WxI
Algunos escritos de Pedro Bennaton:
SUBTEXTO (castellano): http://galpaocinehorto.com.br/wp-content/uploads/subtexto12_es.pdf
Teatro, Revista de Estudios Culturales:
https://digitalcommons.conncoll.edu/cgi/viewcontent.cgi?referer=https://www.google.com/&httpsredir=1&article=1314&context=teatro
Libros: https://issuu.com/errogrupo/stacks/a6f94fa876424b559e3f2739e250c364
Manifiesto: https://docs.wixstatic.com/ugd/4a4510_a32a669102f643c598dc7c6a47a3b92a.pdf
THEATER OF SITUATIONS: STRATEGIES FOR THE PREPARATION AND REALIZATION OF STREET ACTIONS
Research and action workshop in urban space in the city of Barcelona
Coordinator: Pedro Bennaton (ERRO Grupo, Brazil)
From November 8 to 22, 2018.
Schedules (you can do the workshop in any one, or more, of the days):
Monday – 10am to 1pm, Thursday – 7pm to 10pm and Saturdays – 2pm to 5pm
Start at Plaça dels Àngels
This free workshop is part of a the coordinator´s PhD research, with a student´s scholarship grant from the Brazilian CAPES – PDSE –(PPGT-UDESC) under the tutelage of Professor Manuel Delgado (UB, GRECS – OACU) and is aimed at anyone who wishes to develop street actions, people from the art field, anthropology, sociology, philosophy, psychology, architecture, urban planners, none of those areas or any of them.
The workshop has as its focus on investigation the streets in the Old Quarter of Barcelona for possible actions that will be carried out at the end of the course in these same streets. Between the Theater and Anthropology, orientated by Situationist outlook and Augusto Boal's Invisible and Forum Theater, the coordinator Pedro Bennaton, form ERRO Grupo of Florianópolis, Brazil, will try in the timeframe of the workshop to sketch a time and site specific action.
These meetings aim to draw out a street action, not only through the research done during the workshop, but also by a combination of the proposals discovered by the participants, between everyday situations, attacks on powers, and rituals, while participating with their own proposals on the workshop.
This practical-investigative workshop tries to emerge the imagination and experience of a possible or not, conquest of spaces of power, or of tensioning them. From the theoretical-practical research of the coordinator Pedro Bennaton from his PhD thesis Modus Operrantes: strategies of urban action: play and preparation of a theater of situations (State University of Santa Catarina, CAPES-Brasil), which now develops an investigation under the tutelage of Prof. Manuel Delgado, University of Barcelona, ​​Department of Social Anthropology, Doctorate Program in Society and Culture, in the research groups GRECS and OACU, this workshop aims to uncover collective ways of decisions making and positioning in the streets, through poetic, political and aesthetic longings that move such relational experiences and that Bennaton proposes through his experience as a researcher and director of street theater and urban interventions since 2001, in five fields of experience: theater, city, interactivity, game and image.
Meetings and workshop sessions:
Session 1 (2 meetings): Specific observations on the streets.
Session 2 (3 meetings): Investigation of roots and daily rituals, visible and invisible.
Session 3 (2 meetings): Organization and realization of practical collective experience.
Registration: erro@errogrupo.com.br
More information on ERRO Grupo:
www.errogrupo.com.br
https://elpais.com/elpais/2018/03/02/seres_urbanos/1519981122_623530.html
https://www.facebook.com/pg/ErroGrupo
Portfolio: https://www.dropbox.com/s/d2pkxw4k7dlz7c3/Portfolio%202018%20ERRO%20Grupo.pdf?dl=0
Video Jogo da Guerra (2018): https://www.youtube.com/watch?v=KMge7xx5m5Q
IRRUPÇÃO video (2015): https://www.youtube.com/watch?v=2oJXcFvDBUU
Video HASARD (2012): https://www.youtube.com/watch?v=vw9jSUo8WxI
Some writings of Pedro Bennaton:
SUBTEXT (Spanish): http://galpaocinehorto.com.br/wp-content/uploads/subtexto12_es.pdf
Theater, Journal of Cultural Studies:
https://digitalcommons.conncoll.edu/cgi/viewcontent.cgi?referer=https://www.google.com/&httpsredir=1&article=1314&context=teatro
Books: https://issuu.com/errogrupo/stacks/a6f94fa876424b559e3f2739e250c364
Manifesto: https://docs.wixstatic.com/ugd/4a4510_a32a669102f643c598dc7c6a47a3b92a.pdf